On March 26, 2011, the amazing Tim Gunn was in Pittsburgh – which in and of itself is shocking.  More shocking – I got to meet him!  Onto the madness!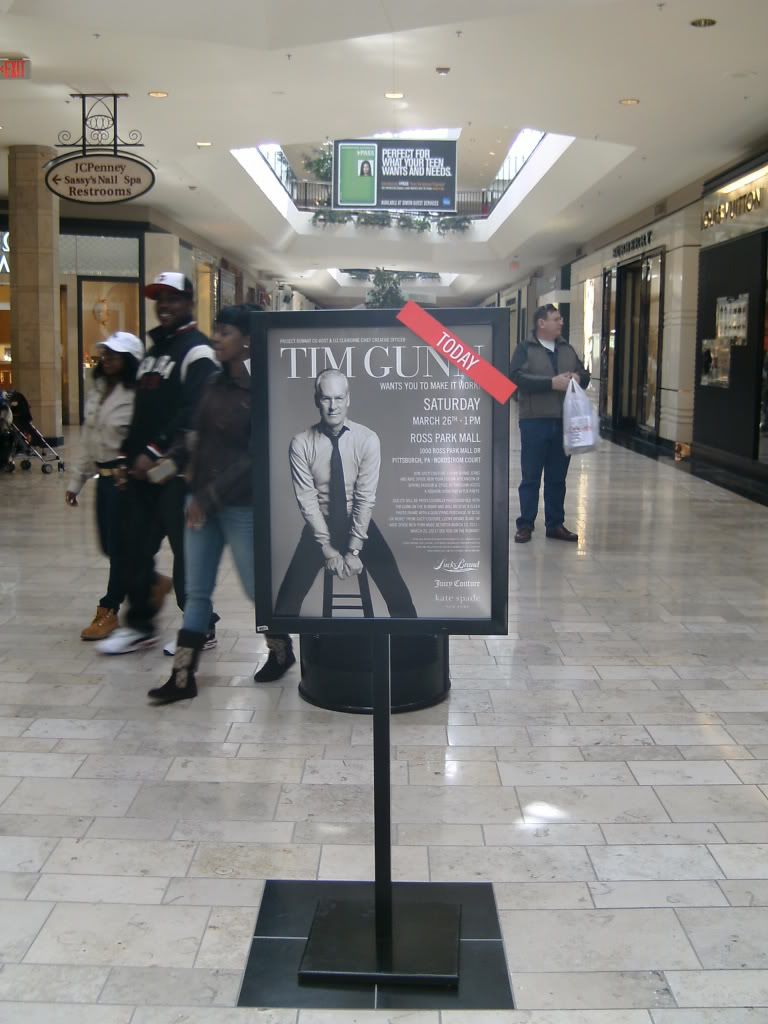 If you're here to just read about his Q&A, skip to the bottom.  I recorded all but one of his answers (stupid record button) and I really, truly was going to transcribe the entire Q&A…however….I got busy. VERY busy. And I wanted to post this asap, so yeah, I didn't do that.  But I do have videos, with pretty decent audio (even if the visual is terrible, haha)  so if you're interested in hearing it, let me know! I did transcribe the answer he gaver specifically about Gretchen on Project Runway, since that garners the most interest. But if you're interested in reading about the whole of my experience, carry on!
My husband, Sean, and I left our house around 9am to get to Ross Park Mall as soon as it opened.  Little did we know, our wonderful PennDot road crew felt like blocking off one of the lanes into the Squirrel Hill tunnel – we seriously saw absolutely no reason for this…particularly since it was OPEN on the way HOME! I would be more angry except that this seems to be the way of the road here in Pittsburgh.  Anyway, we finally got to the mall probably around 10:30ish.  In the end, it didn't matter because we had plenty of time. 
To meet and get a picture with Tim, we had to spend $150 at Kate Spade, Lucky Brand Jeans or Juicy Couture.  Yikes! That's a chunk of change for someone more accustomed to "There's a Blue Light special on Aisle 3" shopping.  But, Sean is wonderful and told me to find anything I liked and he would buy it.  So I got a fabulous navy wool jacket at Juicy Couture!  Love it! Fabulous!!
So we still had some time to kill so we walked around a bit….which unfortunately took us into the Apple store and now Sean is obsessed with the new Mac Book Air, or whatever it's called. That will apparently be our next purchase…Thanks, Apple…
At this point, we travel back around to where the show is going to be and see a bunch of people gathering around.  So after a trip to the loo (I love British slang), we settled into line to get a seat.  Now, we were told by the saleswoman at Juicy that the purchase got us one seat – which was 100% wrong.  We talked to the security guard who told us anyone can sit if there's a seat there.  So Sean was excited because he thought he would have to waste time in the mall for 3 hours and I was excited because he got to stay with me (and not go buy a Mac Book Air…)
While we waited, we people watched, of course.  Which is what brought my darling Alexis to my attention.  She was one of my models in a couple of shows, is a FANTASTIC model and so sweet!! Love her!  So we wave until she spots us, then I run over to say hi, right as they're letting us get seats! So we ended up sitting behind her, her mom (who I LOVE!) and some of her friends…that is until she gets bumped up to the VIP section – OF COURSE – because she's so pretty and fabulous.  Jealous!
This was around 11:30 that we got to sit down, so we still had 1.5 hours until the show.  There were a ton of people there – every seat was filled and a bunch of people were standing around, which annoyed the security guard near us, but it was cool to see so many people come out to see Tim.  I'm glad we got a seat!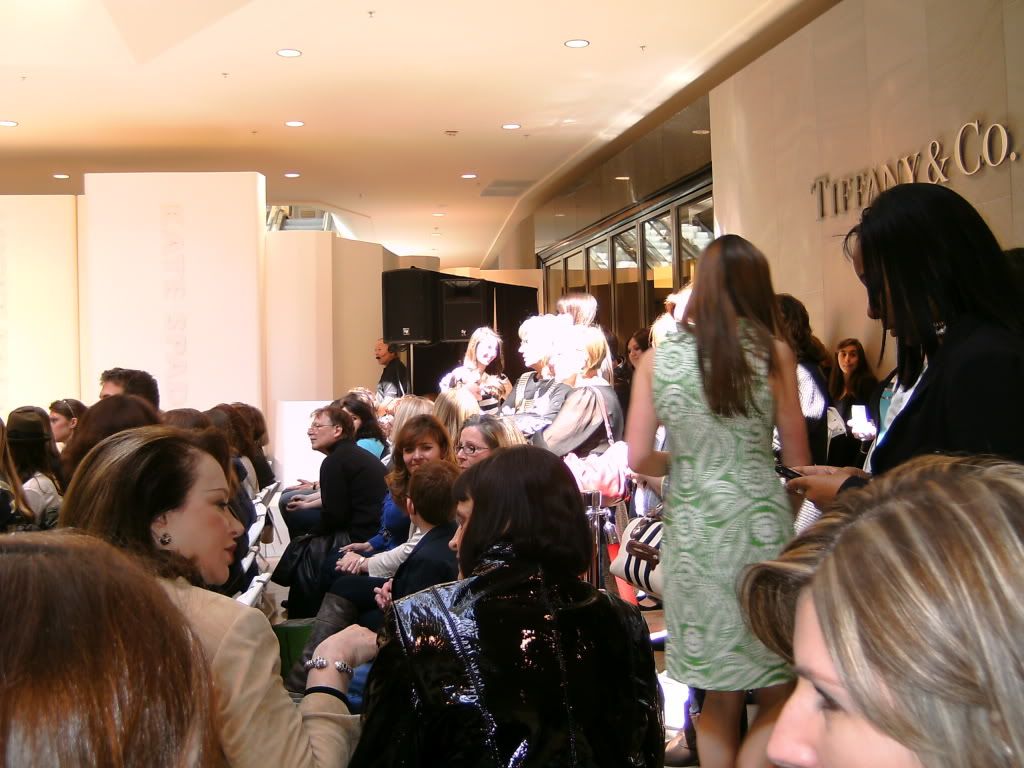 I'd say around 12:15ish, an old woman comes over and sits in the empty seat next to me – which at this point was the only empty seat aside from the VIP seating.  (I really wish I took a picture of her because, really, a picture is worth 1,000 words, for real)  So, because it's me, she starts talking to me…now, don't get me wrong.  She was incredibly nice and everything but really? All these cute, fashionable young people all around and the old lady wanders in and sits next to me? Of course.  Ok, this is great. 
So she pulls out a newspaper clipping about the event and shows it to me. "So this is what's going on here, right?" Me: Yes. Old Lady: Who is Tim Gunn? Me, with a look of incredulity on my face: Um, he's on Project Runway? OL: Oh, yes, ok.  So what does this mean? (pointing at the explanation of the purchase for a picture thing – which, by the way, was UNDERLINED by her) Me: You have to make a purchase? to get your picture taken with him. (then turn to Sean with a "deer in headlights" look) OL: Oh, ok. So it has to be…. Me: yes, it has to be at one of those three stores because they are sponsoring the fashion show.  OL: Oh, ok.
Some time passes…like 20 seconds.  Then she pulls out a color flyer for some restaurant (I can't even remember what it was but I think it was an Irish place – the flyer definitely had some St. Patty's Day junk on it).  OL: Do you know where this place is? Me: Um…no. OL: Oh, I can't remember where this place is. (flips over the flyer, which has the address on the bottom of it)  I point it out and say: It's on Babcock Blvd. OL: Oh, yes, ok. Thank you. Me: Um-hm.
Some time passes….
OL: He should be out here giving a lecture. Me: Well, that's what he's going to do. OL: Oh really? Me: Yes, he's going to talk about the fashions on the runway and how we should wear them and then have a Q&A session.  OL: Oh, ok.  Well, they should be doing something now – seems like a waste to have all these people sitting here and not showing us anything.  Me: well, it doesn't start until 1.  OL: Oh, I thought since all these people were here already, it was starting early. Me: Nooo…we got here early to get a seat. OL: Oh, ok, I see.
Now, at this point, I'm trying really hard to be nice and not yell at her "LADY, WE ARE ALL HERE TO SEE TIM GUNN, WHO YOU HAVE NO CLUE ABOUT, AND YOU NOW WANT A PRE-SHOW? AND YOU'RE TAKING A SEAT AWAY FROM A REAL FAN? JUST BECAUSE YOU SAW IT IN THE PAPER AND THOUGHT  'WHAT THE HECK? MIGHT AS WELL GO?' OMG! REALLY?!"  But I didn't. I was nice to her because she was nice to me, even if she was clueless, and besides, Tim would be nice to her too.  And I only put it on here as an example of the things that happen to me.  This is why I can't make friends – only the old or weird people sit next to me and strike up a conversation.  Thanks, my life, for being so funny.  On a side note, I'm kind of surprised she didn't ask me for any snacks…seems like something she would have said.  Like, "oh, they should feed people while we're all just sitting here waiting."  But I guess she was going to some Irish restaurant for her food, so maybe she didn't care.  Don't want to spoil the early bird special, right?
So, anyway, this at least passed the time until the show started so yay! His co-host came out, director Leah Salak  who was tall and pretty and blonde.  And wore a fabulous dress!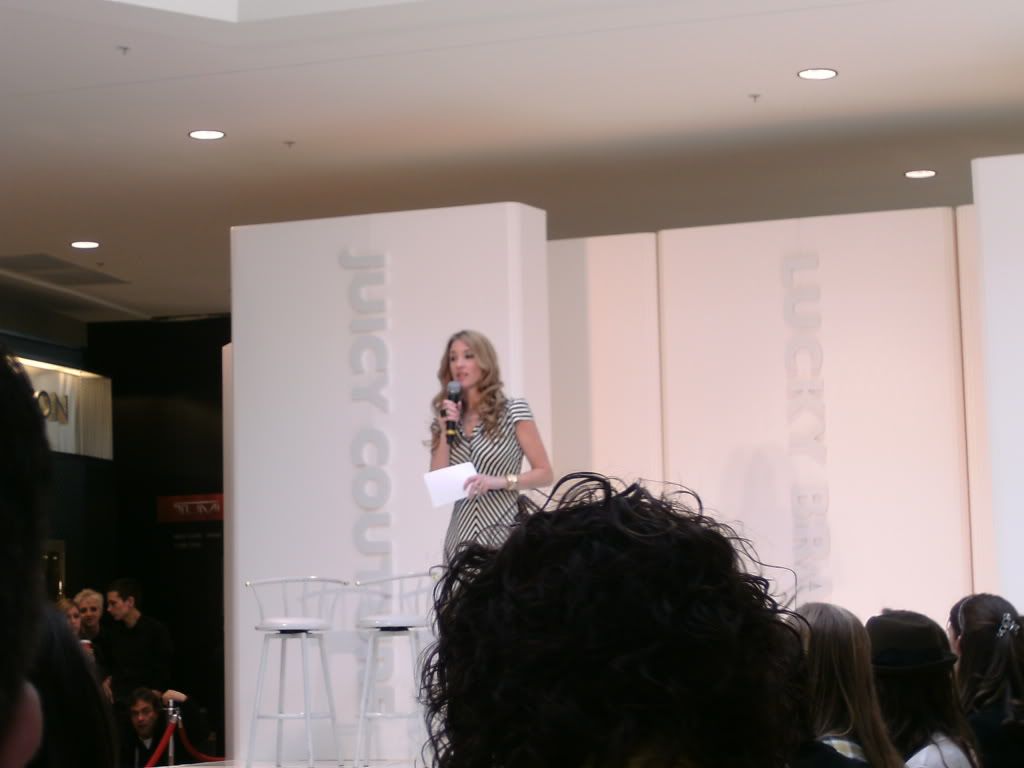 Then the man came out, Tim Gunn! The crowd went nuts! It was awesome!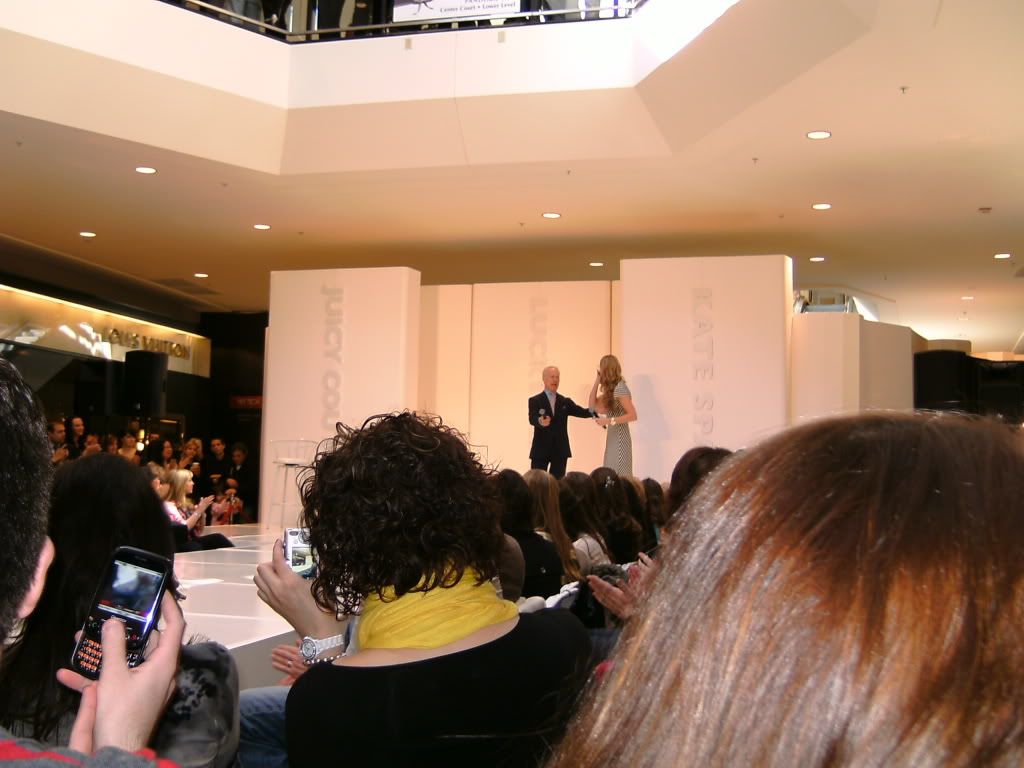 Then the show started with pieces from Kate Spade, then Lucky Brand Jeans, then Juicy Couture.  I tried to get some pictures but since we weren't in the front row, I got a lot of great shots of the guy in the striped sweater right in front of me, like this gem of a picture:
Haha, yeah, all my pictures look like that.  I could do a flip book of the back and side of this guy's head!
The finale was a splattering from the three lines.
Then, drum roll please, came the Q&A.  I took video of it, but again, great shots of sweater man.  So I decided to keep shooting for the audio which I would transcribe later.  Then Sean told me the camera didn't have audio. WHAT?! I almost died when he told me that.  But I kept taping, just in case, and guess what? He's a liar! Because it did have audio. And, as stated, I'm too busy right now to do a full transcript.  I did transcribe exactly what he said for the first question.  Then the rest is a "gist of it" kind of thing:
Q: Watched PR last season.  Wanted to know his opinion about Gretchen winning.
A: (long…long pause)  I'm wondering how much to tell you. I'll give you the short version of it.  And I'd love to tell you the whole story but it would be harmful to too many people but I really would love to tell you the whole story.  During the deliberation, Heidi, Nina and Michael and I have to tell you I keep forgetting Jessica Simpson was there because it's hard for me to remember her at all. Heidi stopped the deliberation and came over to me and I'm sitting behind the cameramen and women.  And she asked me…Let me give you a little set up.  Earlier in the week, on…as you know the final four presented three looks to the judges.  And I was extremely upset that the judges have brought Michael Costello along as far as they had and then just dropped him and decided 'Well, he's not going to show.'  I thought 'This is horrible! This is reprehensible!' And I talked to Heidi about it before it was announced when I heard what the decision was. And she looked at me and said "You're not a judge."  I know, I know. But I'm a humanist, I care.  So we're at the deliberation and Heidi comes over to me to ask me who'd I'd rather have win.  And I looked at her and I said with a fair amount of incredulity "Why do you care?! …"  So she said "I need you to help me with Michael and Nina.  I need you to come with me and help make the case for Mondo."  Because I said without hesitating "Mondo!"  And Nina and Michael looked at me like "Die, scum, die."  They didn't want to hear any word from me…. And the other thing that happened earlier, well, not earlier in the week but the season had wrapped and before we came back for the finale is I was quoted in the Los Angeles Times as calling the judges in Season 8 a bunch of crack smokers. And Heidi got very offended that I said that.  And she said "I'm a wife and a mother, how could you call me a crack smoker?"  "You're not really smoking crack, Heidi, it's just a metaphor."   So Heidi was walking me back to the chair after my little performance in front of Michael and Nina, she leaned over to me and whispered "So am I no longer a crack smoker?"  And I said "No, you're correct, you're not.  Regrettably, you passed your pipe to Nina and Michael and now they're smoking for both."  But I will tell you, things happen for a reason.  I had someone come up to me in my deli the morning after the finale who said "I know what everyone is saying, but I believe Mondo's going to be great no matter what happens." And it's true and Gretchen just really needs the money and that is true as well.
Q: Can you give your opinion on graphic tees, if they're appropriate, when they're appropriate, whatever you have to say about that?
A: He pretty much said he couldn't image it being appropriate in a professional setting…unless you had the shirt on backwards, which I cracked up about.
 Q: What is the importance of history in fashion?
A: Very important - can't tell the story of fashion without history.  Fashion can be traced back to two sources: Greece, which is flowy and draped items and Egypt, which is tailored.  And his new book covers this, which is expected to drop in 2012…he hopes.
 Q:  how did he get into fashion and into his current position:
A: Through a back door – worked in administration prior to working as
Q: Advice for anyone trying to get into fashion.
A: Be nice!  There's so many divas in the industry that being nice goes a long way.
Q: Favorite decade of fashion.
A: 60's.  because of the vast change from the beginning of the decade to the end of the decade.
Q: What trends should we be getting rid of?
A: He's not a trend guy.  And he loathes crocs! (really, he hates them)
Q: Who was his favorite villian in Project Runway? (The girl's favorite villian was Kenley)
A: His too.  She laughed uproariously the entire time he had consultations with people but because of the way the mics were set up, they could edit her out.  He also made the comment "You know, she did spend a night in jail…"
After the Q&A was over, we got back in line to register for our picture with Tim.  Again, we thought it would only be me going up there but they let Sean in as well! Yay, no Mac Book Air, hahaha.  So we waited in line for awhile to get into the VIP area, then waited in line to get our picture taken.  So did a lot of other people!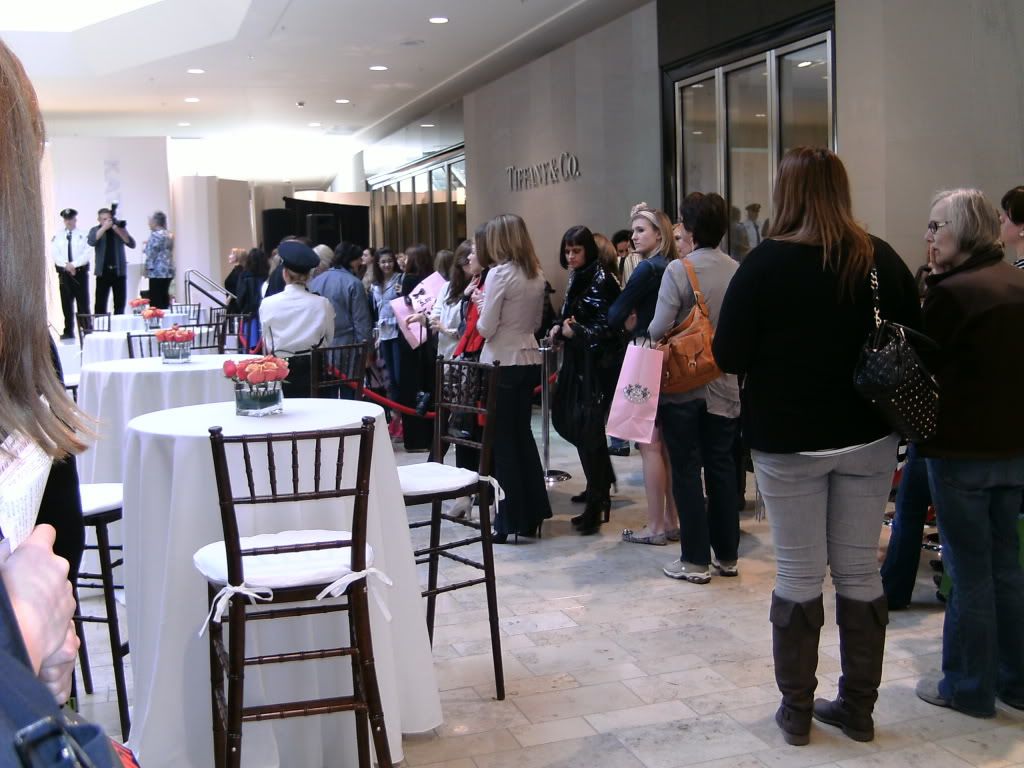 They had mini pizzas and champagne while we waited which was yummy! The champagne was, anyway.  We finally got up to meet him! I introduced myself, then Sean introduced himself and told Tim that he was so excited to meet him and it was all because of me because I love Project Runway and I'm a local designer so this was awesome! Tim said "Oh, you are? Wonderful! Well, we'll put her in the middle then."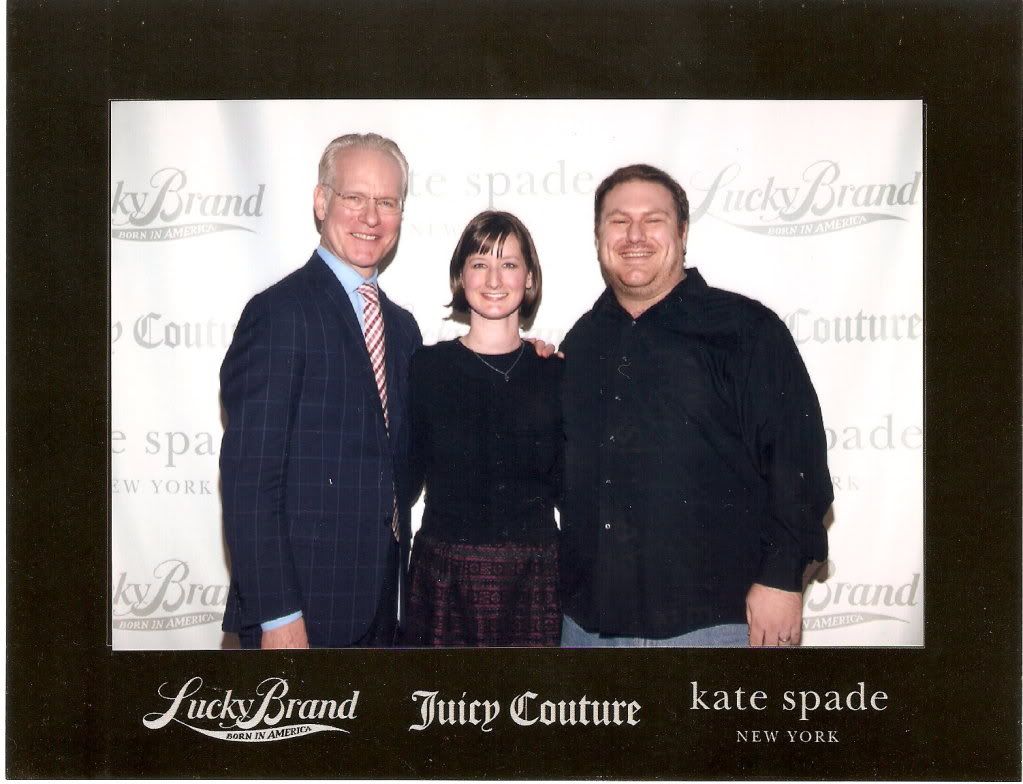 He then asked me how the designing was going.  I told him it was going well, that I had some items in a local boutique and that I'm going to start selling items online.  He said, "GOOD, you should." Then I said "Yeah, once I get good pictures of them because that's so hard" which he nodded and said "yes, it is." I told him that his books were really good and very helpful to me and he seemed genuinely thankful that I said that.  Leah came over then and asked me how long it took me to read it.  I said "um, less than a week?" She said, " a lot of people are saying that because it's so easy to read, you just fly through it!" I agreed and said to Tim, "Yes, I'll definitely be buying your next book – I can't wait" He said Thank you so much! And then we were ushered off the stage. 
We got our picture and a goodie bag which had a frame (which the picture doesn't fit in because they put it on a cardstock border thing), a Whirl Magazine (which is a cool local magazine) and some Bare Minerals makeup and brush.  Cool!
Sean and I got our picture taken by Whirl Magazine, so I know we'll be featured, haha.  He seems to think so because he was the only "manly-man" there, so maybe we'll have a chance?  I don't care, I got to meet TIM GUNN! And I had an actual conversation with him! I didn't stutter, I didn't sound like an idiot, I spoke words in sentences that all made sense! Accomplishment! Yeah, I get really flustered and nervous talking to regular people, let alone someone I really admire and look up to.  But, it was Tim, and he's fabulous and so down to earth and so freaking nice that it would have been impossible to be nervous with him! So yay for Tim!  It was amazing and I'm really glad to have experienced it and really glad that he stopped in Pittsburgh for this tour! Amazing! I will never recover from this, nothing will top it! Unless, of course, I get on PR…what?  Yeah, would have to probably try out for that, huh? Damn.